Market Leading Brand D2C eCommerce
We created a Direct/Business to Customer (D2C/B2C) fashion eCommerce powerhouse for well-known Italian footwear brand Superga, alongside an ongoing multi-channel online marketing, google shopping and SEO campaign.
Through an in-depth UX/UI design process, user testing and development strategy we provided a user-centred solution. The UK site for Superga has always been the standard bearer for the brand, with the digital experience emulated globally.
Solutions Grown
eCommerce, UX/UI, Marketing, SEO, Development
Key Requirements of the project
Provide a site that focussed initially on brand awareness but which would also be flexible to being adapted to a focus on driving sales
Drive sales revenues up through online marketing SEO and managed PPC campaigns
Allow full catalogue management and EPOS integration via STYLEman EPOS
A design that tells the Superga story through the products
Full Integrations
Full Integrations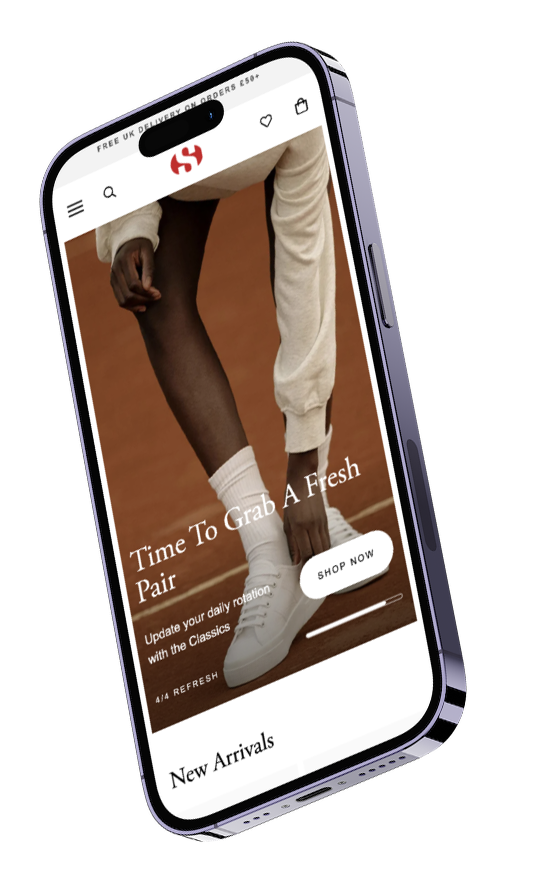 LEADER
Providing a full integration with the STYLEman EPOS, the B2C / D2C experience we have created has driven Superga forward to become a leading footwear brand in the UK with a strong ecommerce channel.
The Approach
Initially the site's goal was to raise awareness, it was designed with a focus on making the brand information at the forefront using the then face of Superga, Alexa Chung and focussing on key and classic products from the 2750 range. We introduced integrated social media feeds to encourage users to engage with the brand. Over time, the focus has continued to move towards promoting products, special offers and putting the focus back on the shoes. We've had some help along the way from some other famous faces, most recently, Suki Waterhouse and Rita Ora.
Tech Integrations
STYLEman EPOS
Sage Pay
PayPal Express
Google Ads
Google Shopping
Trustpilot Reviews
Selling Tools Online
We delivered a full Return on Investment (ROI) within three months providing a fantastic platform for re-investment into the digital strategy.

Over time, we have adapted and refined the Superga website adding new features as the catalogue grows to encourage sales and refine site navigation.
These include adding our powerful product attribute filter and innovative features such as our Facebook 'Like' discount feature at the checkout.
mtc Superga Marketing Push We continue to drive traffic to the site using a mixture of multiple channels.
Search Engine Optimisation (SEO)
Managed Pay Per Click (PPC) Campaigns
Regular Email Newsletter Campaigns
Google Re-Targeting Campaigns
Marketing with Bing & Google
Ewan Scott Managing Director
"We were very impressed with the new website, the functionality of the site and all our dealings with mtc. and are also now enjoying their aftercare aspect to the company which includes weekly calls in regards to the Superga marketing material which mtc also fulfil for us and amends to the website being done efficiently and on time."