Simple, accurate, workforce data.
Data doesn't need to be difficult! We created an engaging way for the Scottish Social Services Council to share key workforce data online.
The Scottish Social Services Council (SSSC) identified the need for a web site dedicated to the data and research the SSSC publishes on the social services workforce. SSSC are an official statistics provider and commissioned mtc to help them present the often-complex data in a simple, clear engaging design.
Solutions Grown
Data CMS, Secure Data
A clear interactive interface for users to find and manipulate key data
Full content management, including the live workforce data
A secure facility to transfer data to SSSC
The site should be built on Joomla! to ensure retraining of SSSC users was not required
SSSC
Explore The Design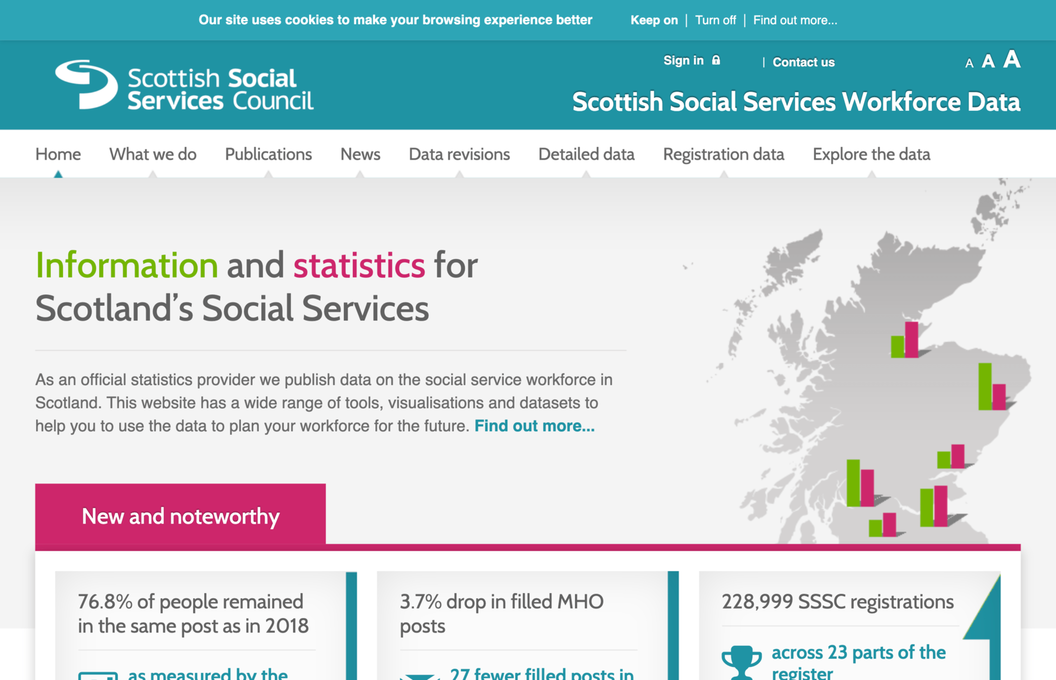 Planning for success
The first stop was to meet with the SSSC team to discuss the site architecture and high-level user requirements for key sections.
Following this mtc provided static mock-ups of key website pages along with a more detailed rationale describing functionality and user experience.
Solution Driven Product with Google's Help
For data visualisation and interactivity, the chosen solution for delivering the data was using the Google Charts API. This enabled us to deliver the dynamic flexible data in an easily digestible format while allowing content management as well as user manipulation of the data. We worked closely with the SSSC statisticians to identify key characteristics and from there a flexible system to manipulate the data under any circumstances.
In addition, we created a custom icon set and management system that allowed SSSC to post headline data on the statistics directly to the site homepage
Secure Date Transfer
We built a special invitation only login area for SSSC to facilitate the secure transfer of data from local authorities. We added layers to existing security measures within the CMS to keep this very important data private.
"The new web-site provides us with something we have needed for a long time, namely a site which people can easily find their way around and have access to our various workforce publications and data sets. As such, this supports our work as an Official Statistics provider and our ability to engage with our stakeholders and support them in their use of workforce data." Procurement Manager, SSSC