Car Dealership
Luscombe motors
Our Solution & Results
Luscombe Suzuki and Mitsubushi motors are a dealership based out of Leeds. The business has two main franchises- Suzuki and Mitsubishi and has seen continual business growth over its time of trading. Due to the lack of flexibility, poor CMS capabilities and front-end user experience of older platform, Luscombe motors were seeking new digital partners to support their long-term vision for both dealerships and completely overhaul their current website and digital presence.
We designed and built an award-winning solution for Luscombe's including full ecommerce to sell their used cars online via our automotive ecommerce partner Silver Bullet.
This allows customers to do everything they would in the showroom, including the part-exchange and purchase of their new car, safely and securely, at any time, from the comfort of their home.
Solutions Grown
Automotive Solution
Business Size
Medium (SME)
Luscombe motors
Explore The Design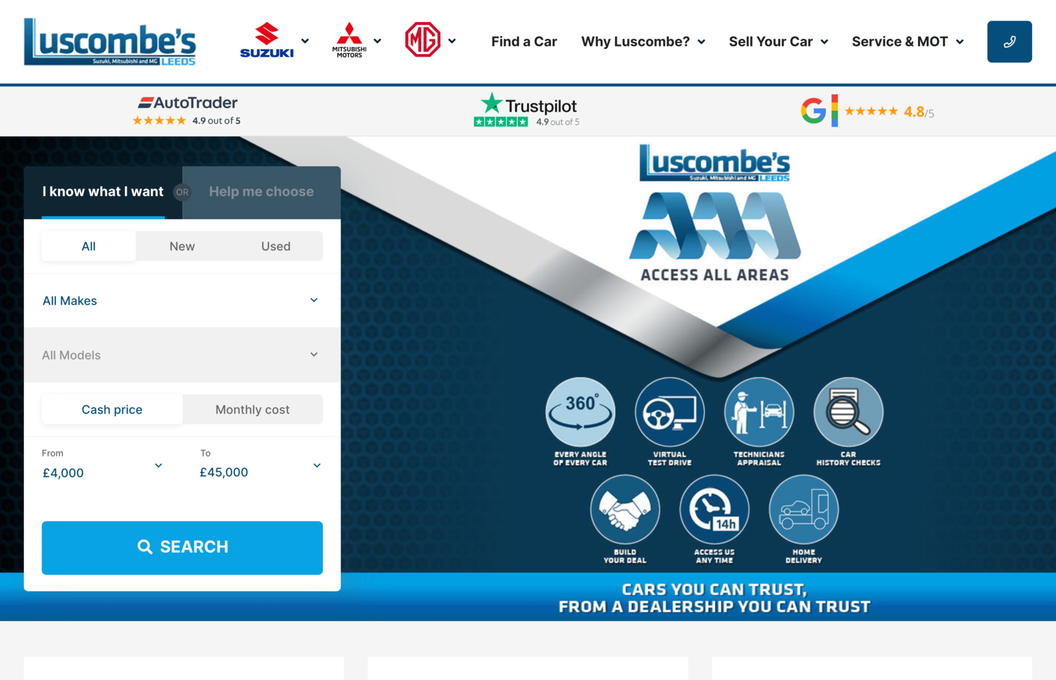 Luscombe Motors Receives National Recognition for Excellence!
Leeds based retailer Luscombe Motors wins top accolade at the 13th annual Auto Trader Retailer Awards 2020

"First and foremost, we were delighted with the end product of months of hard work and collaboration with the launch of the site in May. By July we were seeing the effect that was having on our enquiry levels and come September, the positive impact on the business' bottom line was clear. Ultimately, the purpose of the website is to drive business and to that extent, we're delighted with the performance, but to follow that up with the validation of an industry award is a great testament to the whole team at mtc for bringing our vision to a reality.
In a competitive category and in a year where dealer websites have become more important than ever, winning this award highlights not only the importance of an excellent digital presence, but that delivering something industry leading can be done without the budget of a huge PLC"

Sam Luscombe - Innovation Manager