Online Butcher Ecommerce
Campbells Meat
A mighty, meaty, eCommerce project
Campbells Meat is a family run business with over 100 years of history and experience. The business has grown dramatically, to become one of the largest trade suppliers of fresh meat, fish and poultry in the UK. The business has a very well respective and established B2B market, and was looking to expand into retail through a world class ecommerce website targeting the B2C / D2C market.
Following the launch, the website fought off national competition to win Best Website Based Business for its website selling fresh meat, fish and poultry direct to the public.
Solutions Grown
Ecommerce, Subscription Club
Key Requirements of the project
Design and build a market leading website for online butchery
Provide a platform for rapid sales growth and large order volumes
Delivery multi-channel online marketing strategies
Create user friendly sales funnel to boost sales online from day 1
Campbells Meat
Explore The Design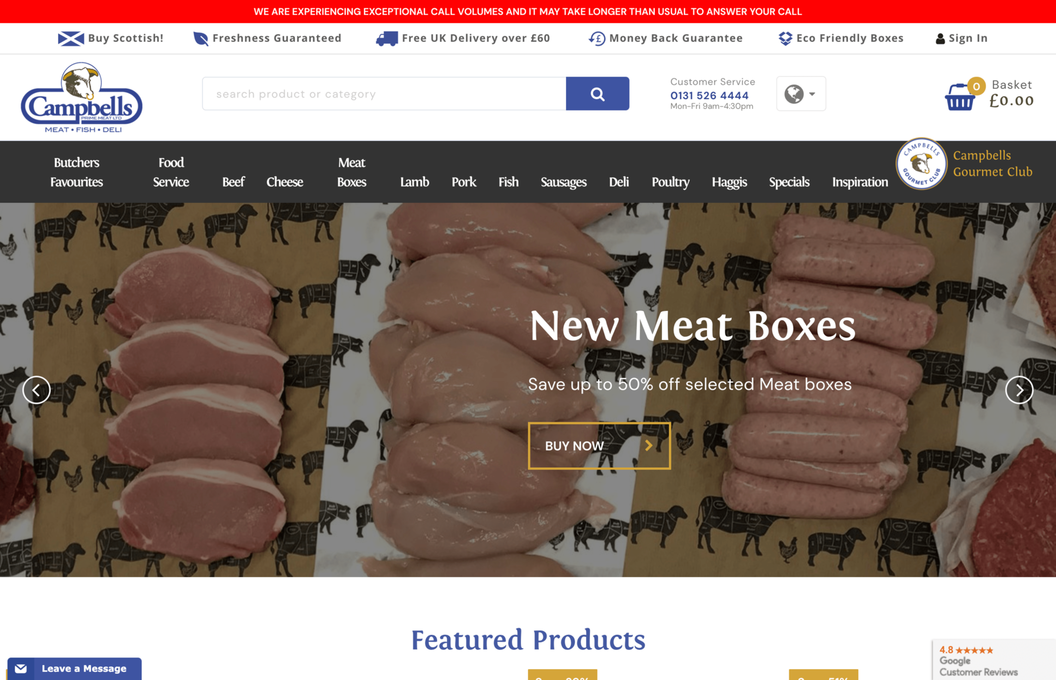 £0
£7,000,000
Boosting big sales online
Approaching the project with key info & user data
Campbells Meat had implemented various previous websites, none of which had delivered the sales growth required for a business of this size. mtc. were engaged after a competitive tender process to work with Campbells Meat to make the online retail aspect of their business a key part of the business moving forward, vis the development of a market leading website.
We worked closely with Campbells Meat to understand their market, customer, and competition before devising a detailed strategy to grow online sales via the new ecommerce website.
SALES GOALS
SALES GOALS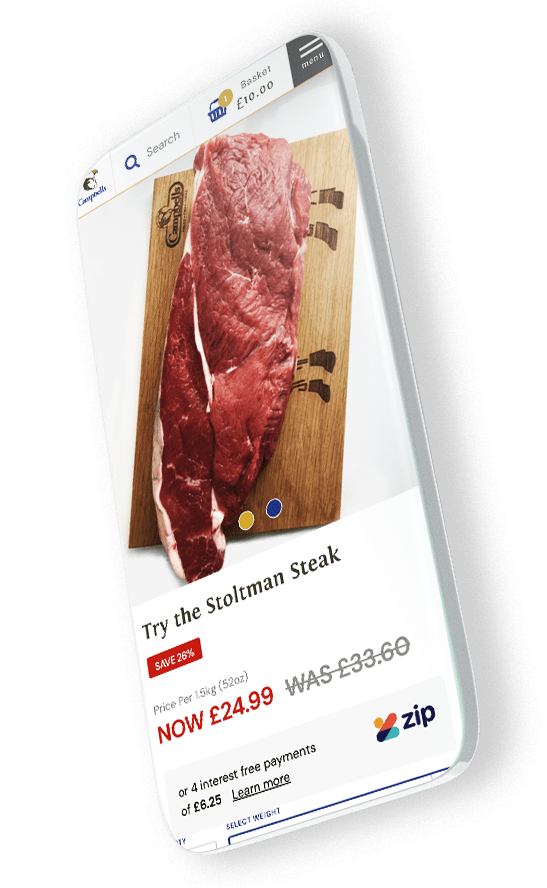 Smooth User experience
The new website was designed to be fully responsive for all devices, to ensure Campbells Meats could capture sales from customers both on Desktop and Mobile devices with ease. The creative team at mtc came up with a fantastic design that tied in the goals of Campbells Meats both as a brand and a serious new player in the online ecommerce marketplace. The Design uses clear ux and funnels to execute high conversion rates online.
Super Meaty Selling Tools Online mtc. deployed innovative features and marketing tools to achieve ambitious sales targets. We established a number of effective campaigns via multiple channels such as social media where campaigns were devised, and developed / delivered by mtc. Full sales targets and ROI figures were measured and achieved providing continual year-on-year sales growth. We additionally launched the Campbells Gourmet Club, launching the businesses first subscription model to drive incremental annual eCommerce sales growth.
Growth & Results since launching
Campbells Meat now have a website which accurately reflects them as a heritage business with a fantastic history, but also as a forward-thinking company with grand ambitions to grow using the latest web technologies. The new website is world class, and delivers an ecommerce platform second to none. We are now focused purely on driving sales, and increasing revenues through our new partnership and look forward to working with Campbells Meats to achieve more great results for many years to come. Campbells Prime Meat fought off national competition to win Best Website Based Business for its website selling fresh meat, fish and poultry direct to the public. The award, open to meat suppliers across the UK including leading supermarkets, was presented at the Meat Management Industry Awards.
Support 24/7
After we upgraded our website last year, we knew we were on to something special as the website business has been growing around 30 per cent month on month. This award demonstrates that we are on the path to success and we are honoured to receive it."
Christopher Campbell, Managing Director