Global Community Crowd Funding Platform
BrewDog
Building a ecommerce and the EFP Community Fund-raising Platform
We designed and built a world class ecommerce website designed to accelerate BrewDog's incredible growth and give their passionate customers an intuitive way to learn more about their beers, company and products. A cutting-edge example of executing a brand Direct to Consumer (D2C) eCommerce model and offering.
BrewDog approached mtc for a complete overhaul of their website, to bring it in line with their new brand and to take their ecommerce solution to the next level. We delivered an industry-leading solution on time and on budget within a very ambitious timescale while partnering with multiple of BrewDog's third-party providers to deliver a fully integrated solution. Since then, we have been involved in building all EFP fundraising solutions, the community hub and various heavy development work on a Monthly SLA.
Solutions Grown
EFP Fundraising, ecommerce, community badges, subscriptions, Airlines bookings
BrewDog
Explore The Design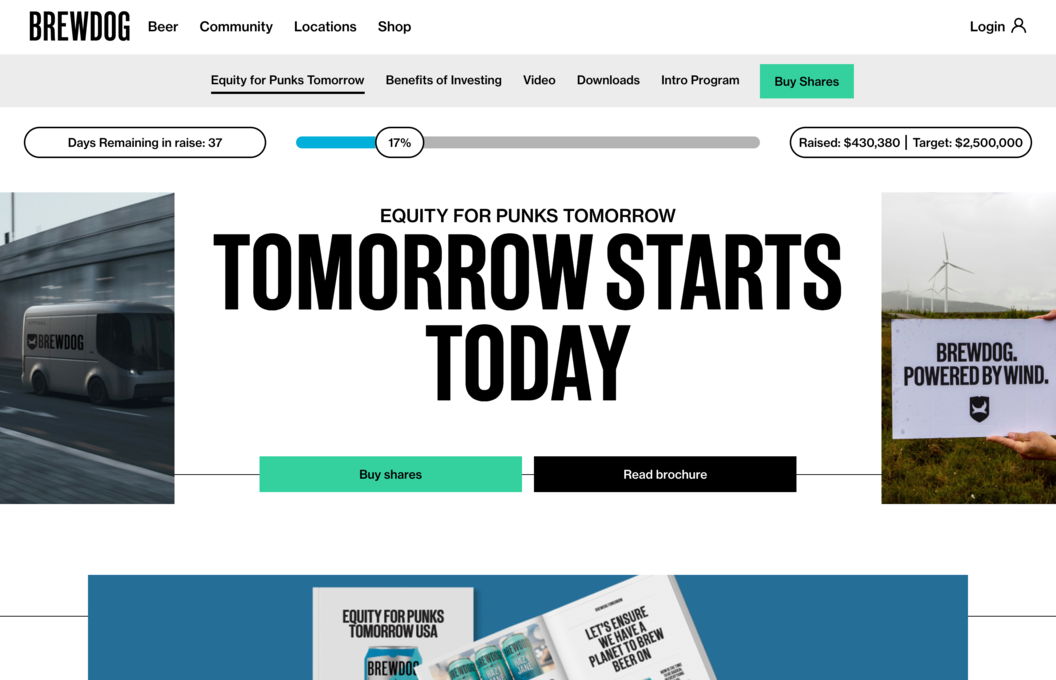 Key Requirements over time of BrewDogs online platforms
Fully responsive website designed in-line with new branding
World class ecommerce platform with integrated shareholder discounts
Dedicated load balanced hosting solution
Full Product, Order and Shipping integration with 3rd Party Logistics (3PL)
Bespoke CMS Development for management of all webpages at the touch of a button
API integration with the BrewDog App showing live tap data from bars
Approaches to BrewDog Projects
Collaborating with BrewDog we analysed existing website performance data to identify issues. We then provide tailored solutions for each area of the website by delivering mock-ups page by page for client sign off.
Each area was designed to be managed easily in-house by BrewDog but crucially with room to grow certain key sections such as their ever-expanding portfolio of bars.
We took the lead and worked closely with various third parties to setup the required integrations. This included order fulfilment via the Warehouse Management System, a Courier Integration for dispatch and an EPOS integration. An API integration with their IOS App to feed real-time updates was also delivered.
All of this was delivered in a very ambitious timeframe with launch dates that could simply not be missed.
Record Breaking Results For the EFP and Online Store
The project delivered Return on Investment (ROI) within 3 months and since that point BrewDog have continually invested into their digital footprint and strategy.
We delivered an online crowdfunding platform with an integrated share purchase system. Our sophisticated integration helped facilitate the world's largest online crowdfunding campaign. Equity Punks IV raised £19 million pounds and broke various crowdfunding records along the way.
We also setup a full community experience on the BrewDog website which includes integrated discounts on the store, the ability to order your EFP ID card direct from the website, free gifts sent to the top shareholders, referral schemes, "Double Dog" discounts, a separate but integrated experience for the USA Shareholders and an API into the Online Community Equity for Punks Forum.
BottleBox is also a BrewDog vision we made a reality giving BrewDog a full Beer Subscription Club. Customers can sign up to enjoy their amazing beers shipped direct to their door each month including free Loyalty Gifts direct from the BrewDog brewery creating a market-leading D2C brand model and offering.
Long Term Partnership
For mtc. to work with BrewDog was a dream come true. BrewDog are as passionate about Beer as we are about Web Development and bringing the two companies together was the perfect match. mtc. are very proud to be part of the craft beer revolution and we look forward to a very prosperous working relationship together for many years to come (with a few BrewDog beers along the way)!
"We have been working extremely hard with the amazing Dundee based media company, mtc, to design and launch this stellar site. Much like our packaging update, it was time to change and redevelop our website to match our growth, attitude and overall mission – to educate and encourage passionate people to drink great craft beer."
James Watt - Captain, BrewDog
MTC have been a staple for BrewDog's digital presence for the past few years. They have been responsive and supportive when we have required changes – notably going out of their way to accommodate support out of normal working hours. They offer super cost effective solutions, which enabled us to manage our budgets carefully, whilst building out additional projects for our ecommerce and content-driven solutions. In terms of design, the creative team understands our brand and works hard to ensure everything we create matches our tone and aesthetic.
Our eCommerce shop has undergone two separate stock and order integrations, as we outgrew the first one due to its unprecedented success. BrewDog holds the world record for crowdfunding, having raised more than £26m through 4 separate rounds, and we couldn't have raised funds via our website during the most recent round if it were not for the seamless integration MTC managed with external suppliers. Working closely with MTC's team, the form we built was succinct, effective and efficient in converting a potential investor into a full-fledged Equity Punk as quickly and smoothly as possible.