Ecommerce & Subscription Boxes
The Fish People
Our Solution & Results
The Fish People is a well established high-quality family fishmonger and wholesaler based in Glasgow, Scotland. The Fish People wanted to reach more users, easily acquire their customers through an on-trend web presence, and enable a convenience that will take them from customers to fans. Shriving for "From Shore to Door in 24" to have the freshest tasting fish delivered online.
We designed and developed an online ecommerce website bespoke to the fish products and a custom fish box subscription platform that has a strong and engaging design, leading their online presence. The site boasts EPOS, Stripe, Apple Pay, and Delivery courier integrations to make it effortless for the management of the site and the customer's experience online.
Solutions Grown
Ecommerce, Subscription
Business Size
Small (SME)
The Fish People
Explore The Design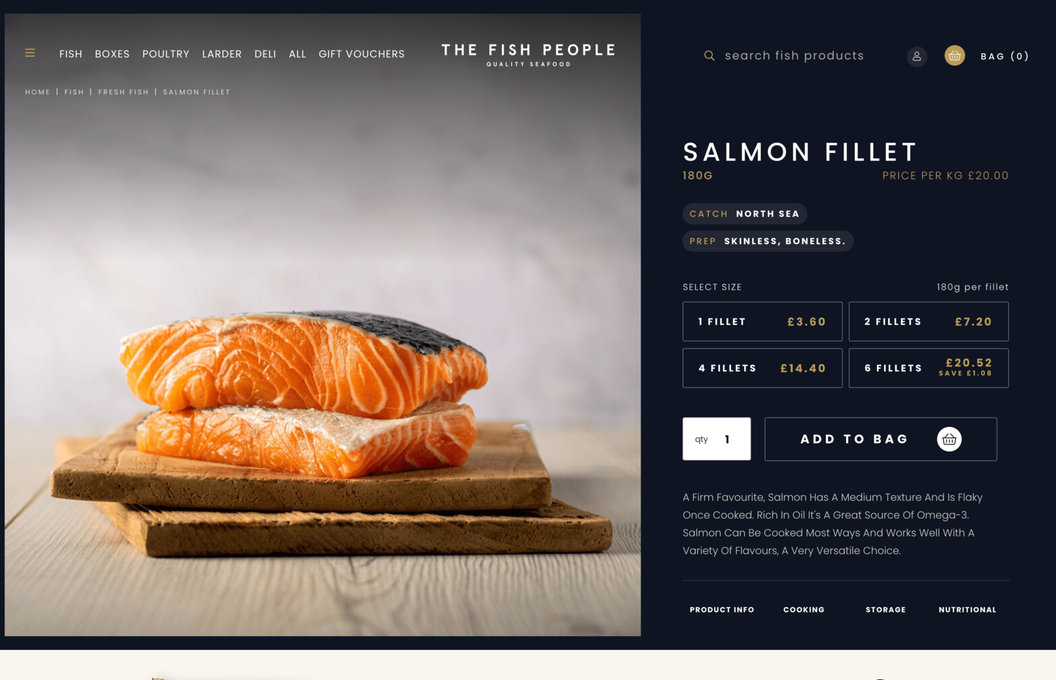 Clear Pricing
Clear Pricing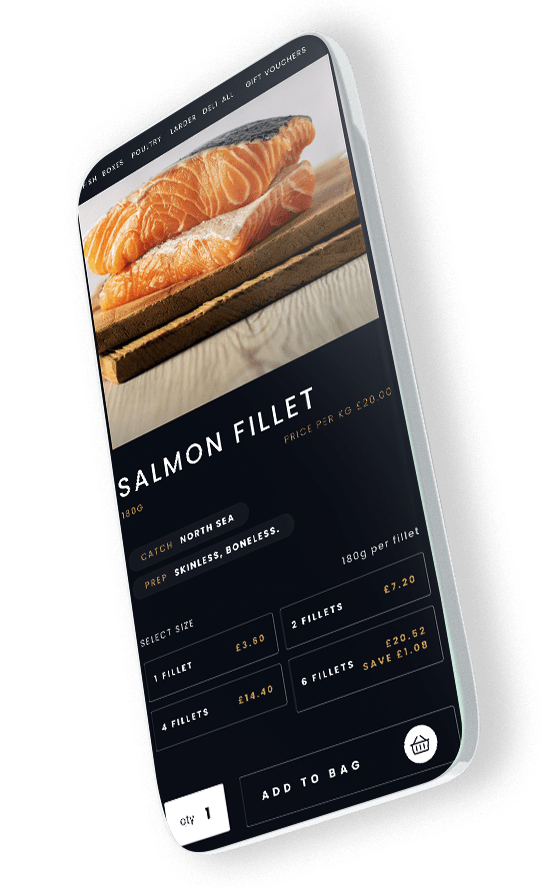 Fish Specific Item Pages
The item pages were designed completely around the product and brand style. We defined the selling of fish through sizes and discounts on quantities. We have designed this to be shown very clearly to the user to help conversion and increase overall basket value.
Fish Boxes
Fish Boxes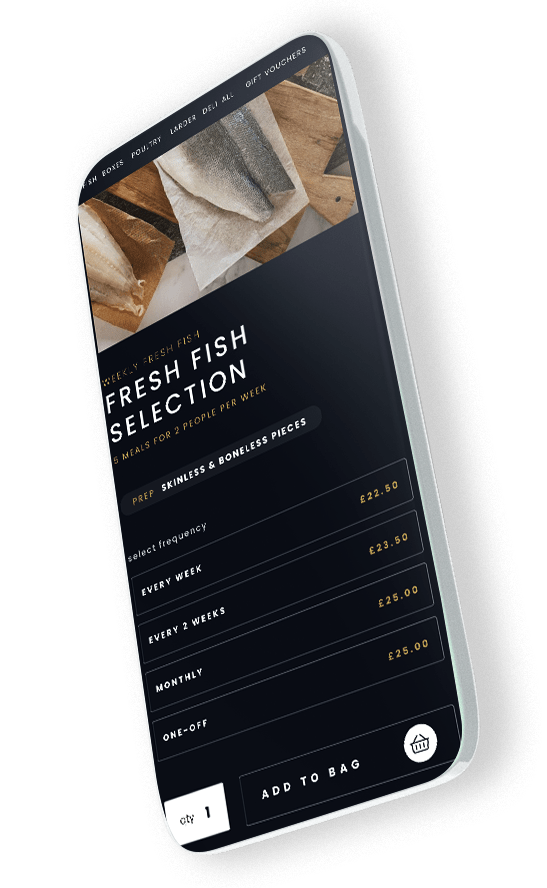 Weekly Fish Subscriptions
We designed and developed a bespoke fish box subscription functionality. The boxes allow multiple frequencies to suit the customers needs and the price varies on that frequency. The subscription is added to the users basket to allow them to be able to purchase one-off products as well as the subscription to make it as quick and efficient to checkout, minimising basket abandonment and increasing sales.
Checkout
Checkout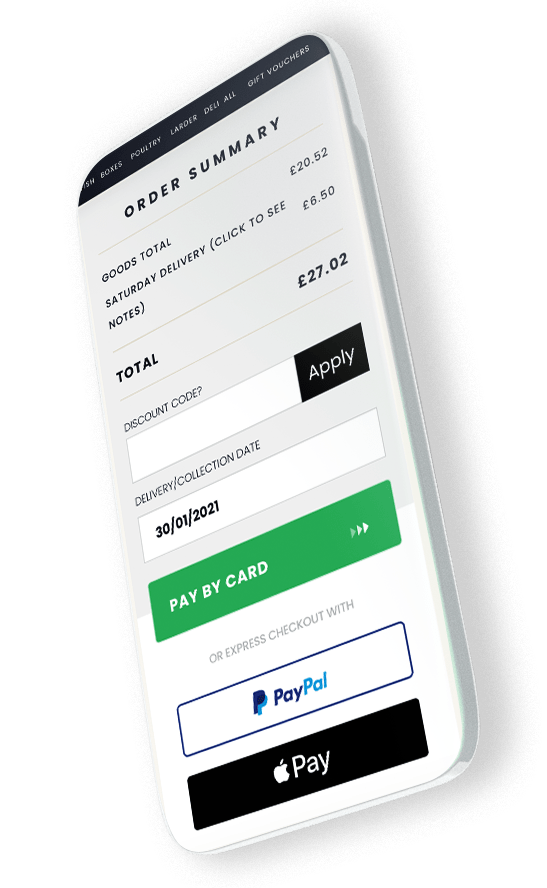 One page checkout
We used our mtc ecommerce checkout on The Fish People's website which allows integrations with Apple Pay, Android/Google Pay, Paypal, Amazon Pay, Klarna. The Checkout is a one page. stepped checkout that creates fewer distractions and delivers a high conversion rate.
Custom Boxes
Custom Boxes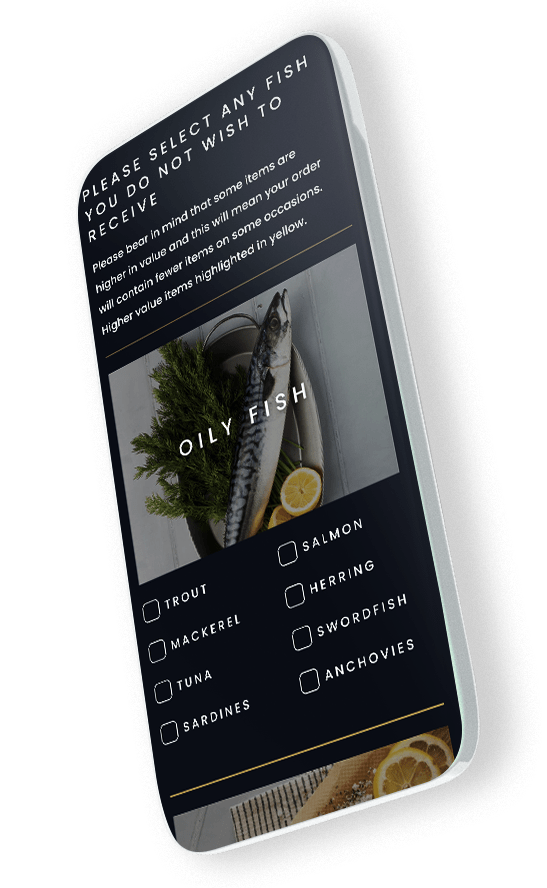 A box suited to every customers needs
Within the fish box, we have built an allergens and tastes selection feature that allows users to remove any possible allergens or fish they don't like, so the boxes are always perfectly suited for them each week. This personalisation feature has helped to encourage customer loyalty.