Nationwide Dealership Solution
Peter Vardy
Our Solution & Results
We have worked with Peter Vardy since 2014, initially delivering a "digital forecourt" described as "setting the standard" in the sector by Autotrader UK. Working closely with the team at Peter Vardy, we have sculpted their website to deliver an engaging purchasing journey that empowers the car buyer. The site is one of the fastest and most user-friendly in the industry.
Our partnership with Peter Vardy has extended to joint ventures designed to reshape automotive ecommerce. With COVID-19 throwing the importance of convenience and customer empowerment even more sharply into relief for automotive retailers, we continue to push the envelope with our Digital Partners at Peter Vardy.
Peter Vardy
Explore The Design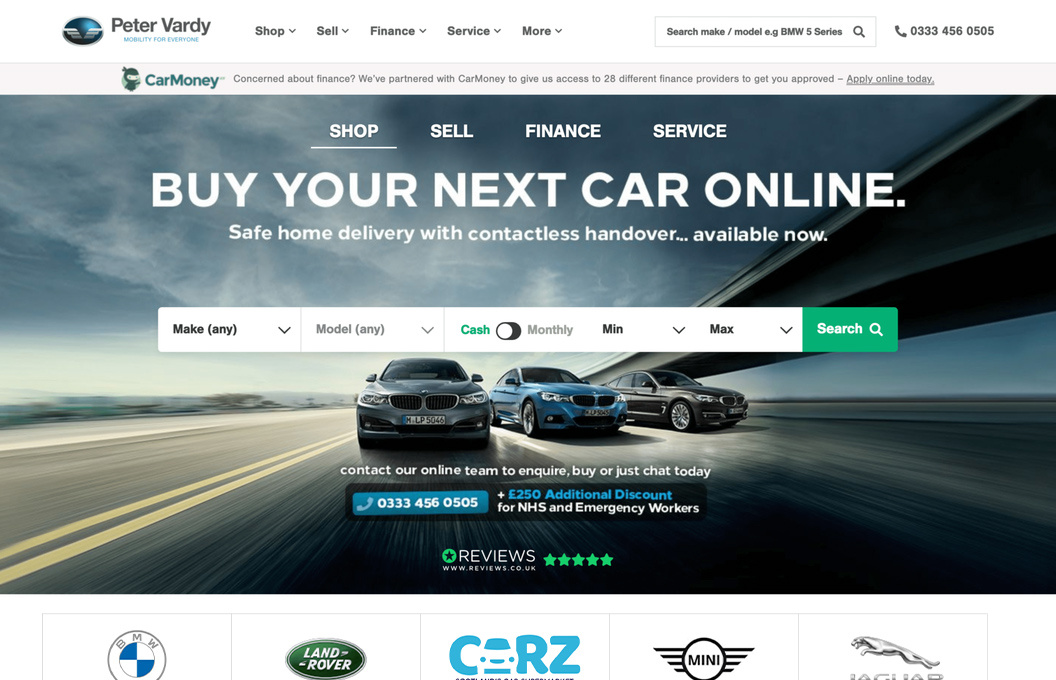 Data-Driven Our work is driven by data, constantly refining and experimenting based on split testing technology to deliver the best results possible.
Solutions
Solutions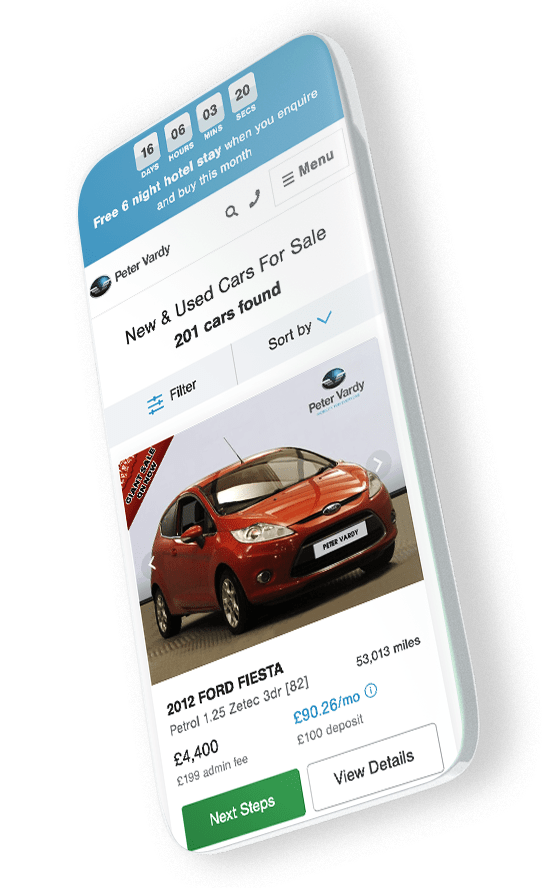 Auto Solutions
Our bespoke solution offered the platform for growth for a hugely ambitious company. Selling multiple car brands online with a huge variation of factors required a great user experience and security.
Fully responsive website designed inline with new branding
World class car dealership solution
Bespoke CMS Development for management of all webpages at the touch of a button
Massively improved customer journey into car stock items.
API integrations to deliver a seamless customer journey in selecting and enquiring about a new vehicle
Create a completely transparent finance search and allow easy access to associated costs of car ownership
A research phase at the beginning of the project involved identifying the key audience for the site.
The data available was based on typical customers for the various franchises that Peter Vardy operates. Key requirements for customer types were also identified using industry research.
This phase included a competitor analysis as well as user testing and evaluating analytics data from the existing Peter Vardy website.
Heavyweight, bespoke development
With no fewer than 18 integrations and innovative features, this was a highly bespoke development tailored to delivering a sector leading car dealership website
Tech Integrations
Content Management System (CMS)
Video & Photo Integrations
A/B Testing & Heatmaps
Customer Reviews
Call Tracking
Vehicle Valuation Tools
Vehicle Search
Time / Weather / Location Sensitive Banners
Content Delivery Network (CDN)
Vehicle Finance Tool
Vehicle Stock System
Management Information & Google Tools
User testing
We carried out extensive user testing over two main phases. The first was used to identify major blockers in the user experience and the second was to probe users further on expectations to then adjust the requirements specification.
The design and front end team worked closely to deploy a robust, responsive, front end for the website. This was written in HTML5 and CSS using the LESS preprocessor and our own bespoke CSS framework.
We assessed the usability of each user journey closely through further user testing and our QA procedures, testing on major platforms and browsers through a mix of virtualisation and testing on physical devices.
Long term partnership Peter Vardy's Tech Partner
For mtc to work with such a forward-thinking company as Peter Vardy was a dream come true. The first phase of the web development is simply a taster of the exciting developments to come. The platform delivered is designed to offer huge potential for future growth and we are looking forward to travelling this exciting road with a company that recognises the power of online technology in delivering an outstanding customer experience.
Peter Vardy "Thank you for the early start this morning and for the months of work on the site. It looks world class."